Profiteroles With Strawberry Cream Recipe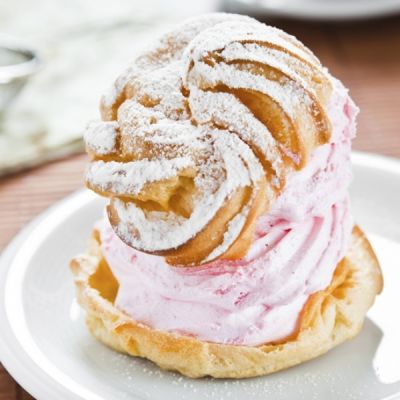 A very yummy recipe for profiteroles with strawberry cream.
Ingredients
Pastry
1/3 cup water
3 Tablespoons butter, at room temperature
1/3 cup all purpose flour
2 eggs, at room temperature
Vegetable oil, to grease
Filling
2 pints fresh strawberries, sliced
1/2 cup sugar, divided
2 cups heavy whipping cream
Confectioners sugar
Directions
Preheat oven to 350 degrees f. Brush a baking tray with oil to lightly grease.
Place water and butter in a saucepan over medium heat. Cook, stirring, for 3-4 minutes or until butter melts and mixture just comes to the boil.
Add all the flour to the butter mixture at once and use a wooden spoon to beat until well combined. Place over low heat and cook, stirring, until the mixture forms a ball and begins to come away from the side of the saucepan.
Set aside for 5 minutes to cool slightly.
Whisk 1 egg in a small bowl and set aside. Whisk the remaining egg in a small bowl, then add it to the flour mixture, beating well with a wooden spoon. Gradually add a little of the reserved egg and beat until the mixture just falls from the spoon but still holds its shape.
Use a pastry bag fitted with a 1.5cm-diameter piping nozzle to pipe the profiteroles onto the baking tray.
Brush the tops with a little of the remaining egg.
Bake in preheated oven for 25 minutes or until the profiteroles are puffed and golden.
Remove from oven and turn the oven off. Using a skewer or a small knife, pierce the base (or top) of each profiterole to release the steam. Return the profiteroles to the oven and leave them for 15 minutes to dry out.
Remove the profiteroles from the oven and transfer to a wire rack to cool.
For filling, combine berries and 1/4 cup sugar. Chill 30 minutes.
Beat cream and remaining sugar until stiff. Just before serving, cut tops off puffs. Combine berries and cream mixture. Fill cream puffs and replace tops.