Pumpkin Carrot Cake Recipe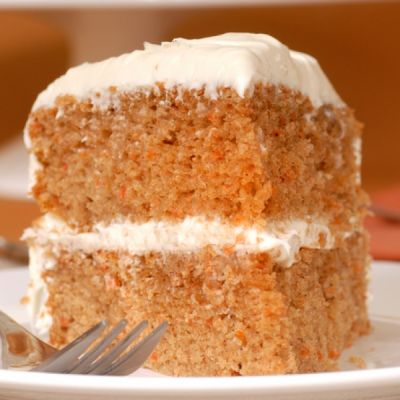 A delicious seasonal spin on a classic carrot cake recipe wtih yummy cream cheese frosting.
Ingredients
Cake
1 cup unsalted butter, softened
1 ½ cups sugar
½ cup brown sugar
3 large egg yolks
1 ¼ cups pumpkin puree (either canned or make your own; I pureed cooked butternut squash)
1 tsp vanilla
2 cups grated carrots
2 ½ cups all purpose flour
4 tsp baking powder
1 tsp baking soda
2 Tbs ground cinnamon
1 Tbs ginger
1 Tbs ground cardamom
¼ tsp each nutmeg, allspice, cloves
1 tsp salt
6 egg whites
Frosting:
12 oz. (1 1/2 packages) cream cheese
1/2 cup butter, softene
1-2 pounds confectioner's sugar
1 tsp vanilla
Directions
Prepare two 9x 12 rectangle cake pans by greasing with butter and sprinkling flour.
Preheat oven to 350F.
Start with your cake:
Whip butter until light and creamy in texture. Add sugar and cream together until fluffy.
Add egg yolks and mix on medium speed for a couple minutes, then add pumpkin puree and vanilla and blend on medium speed for a couple more minutes.
Fold in carrots.
In a separate bowl, combine flour, baking powder, baking soda, cinnamon, ginger, cardamom, nutmeg, allspice, cloves and salt.
Sift your mixture several times.
Add dry ingredients into wet and mix slowly until combined.
In a separate glass or metal bowl, beat egg whites until stiff peaks form.
Stir 1/3 of egg whites into batter to lighten it and then carefully fold in remaining egg whites.
Divide batter equally into prepared pans and bake for 30 minutes or until toothpick inserted in the centre comes out clean.
Allow to cool 15 minutes in your pans and then carefully invert onto wire racks to cool completely.
In the meanwhile, prepare the frosting:
Cream butter and cream cheese together until light and fluffy.
Slowly add confectioners sugar until desired sweetness is achieved (this means you will have to taste it).
Add vanilla finish mixing.
Frost the bottom layer of your cake, top with final layer and then frosting entire top and sides of cake.