Pumpkin Pancakes With Hot Cider Syrup Recipe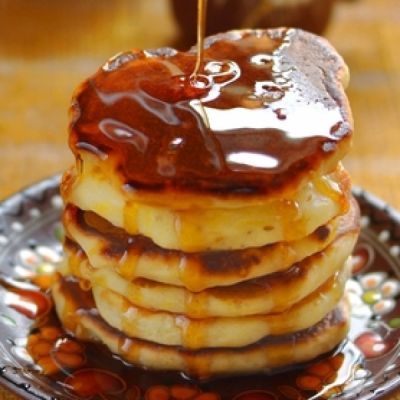 A Tasty recipe for pumpkin pancakes served with yummy hot cider syrup
Ingredients
Pancakes
2 cups all-purpose flour
2 tablespoons granulated sugar
4 teaspoons baking powder
3/4 teaspoon salt
1/2 teaspoon ground coriander
1 teaspoon cinnamon
1/2 teaspoon nutmeg
1 1/2 cups milk
1 cup canned pumpkin, mashed
4 egg yolks
4 ounces melted butter
1 tablespoon vanilla extract
4 egg whites, stiffly beaten
Hot Cider Syrup
1 1/2 cups apple cider
1 cup brown sugar, firmly packed
1 cup corn syrup
2 ounces butter
2 tablespoons lemon juice
1/8 teaspoon cinnamon
1/8 teaspoon nutmeg
Grated rind from 1 lemon
2 apples, peeled, cored and thinly sliced
Directions
Preheat Griddle to medium hot.
In a large bowl, sift together flour, sugar, baking powder, salt, coriander, cinnamon and nutmeg.
In a separate bowl, combine milk, pumpkin, egg yolks, butter and vanilla extract.
Pour combined liquid ingredients into dry ingredients and stir until just blended. Carefully fold in egg whites.
Cook pancakes on a light oiled griddle.
In a small saucepan, combine apple cider, brown sugar, corn syrup, butter, lemon juice, cinnamon, nutmeg and lemon rind. Bring to a boil. Reduce heat and simmer uncovered for 15 minutes. Add apples. Heat for several minutes more. Serve over pancakes.