Purple Coleslaw Recipe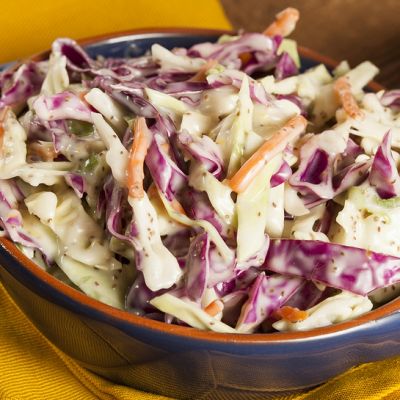 This purple coleslaw is so easy to make, healthy and such is a good keeper in the refrigerator. To preserve the salad longer, do not add the dressing until you are ready to eat the salad.
Ingredients
COLESLAW
1/2 head green cabbage, shredded
1/2 head purple cabbage, shredded
2 carrots, shredded
DRESSING
1/2 cup mayonnaise
1/4 cup sour cream
3 Tablespoons lemon juice
2 Tablespoons whole grain mustard
2 Tablespoons dark brown sugar
1/2 teaspoon celery salt
fresh ground black pepper and salt to taste
Directions
COLESLAW
In a large colander, mix together the green and purple cabbage and carrots.
DRESSING
In a blender, or in a bowl using a whisk, combine all the dressing ingredients except the salt and pepper.
Mix until creamy. Do a taste test and add salt and pepper.
Transfer to a container with a lid.
ASSEMBLY
Toss coleslaw with the sauce and serve immediately.
If you don't plan to eat it all at once, only put dressing on the portion you plan to eat.