Quinoa Salad Recipe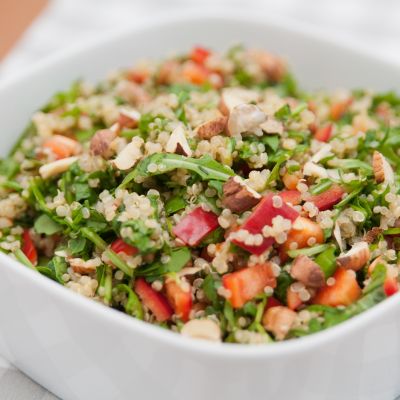 This quinoa salad recipe is a healthy and colorful starter or side dish.
Ingredients
2 cups quinoa
1 cup water
2 cloves garlic, minced
1/4 cup olive oil
2 Tablespoons red wine vinegar vinegar
1/4 cup fresh lemon juice
1 red pepper, diced
1 red onion, diced
1/3 cup chopped nuts (walnuts, hazelnuts or pecans)
2 cups arugula
1 large cucumber, peeled, seeded & diced
Salt and fresh ground black pepper
Directions
In medium pan, combine quinoa with water and bring to a boil.
Reduce heat to a simmer and cook, covered, for 15 minutes.
Remove quinoa from heat and leave to cool for 15 minutes.
In the meanwhile prepare the remaining ingredients as instructed above.
Combine cooked quinoa with the rest of ingredients and toss well, seasoning with salt and pepper to taste.