Rainbow Frosting Recipe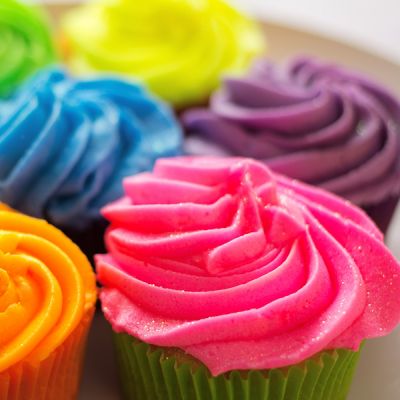 Use this rainbow frosting recipes to add the perfect touch to your baking.
Ingredients
2 cup butter, at room temperature
1 cup shortening, at room temperature
2 teaspoon vanilla (or to taste)
5 cups confectionersí sugar
1/4 cup milk (more or less)
** you can change shortening to butter. Shortening stabilizes the icing. A straight butter icing may have tendency to melt in warmer temperatures
Food colour gels
** you can use normal food colouring but this will thin out your icing. With the gels, it keeps the consistency of the icing and gives you more vibrant colours. (plus more variety of colours)
(Frosts about 24 cupcakes)
Directions
Cut up butter and shortening and put them in a mixing bowl. Mix them on high speed until light and fluffy.
Add in confectioners and vanilla, mix slowly until incorporated, them mix on high speed for at least 10 minutes or longer. (you can't over mix this, the longer the better)
Add milk if you feel the icing is too thick. Otherwise just omit. Also take a taste of the icing and add more vanilla for more flavour.
Separate your icing into different bowls and add colouring as needed.