Ramekin Mac And Cheese Recipe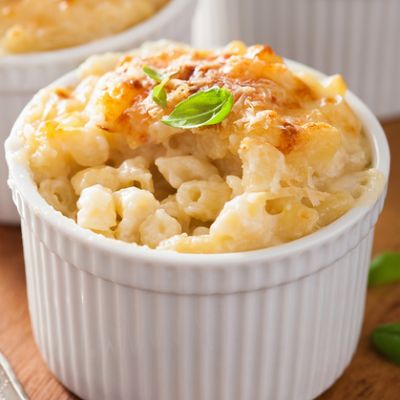 This mac and cheese recipe could be done all in one casserole dish or if you want to make cute little individual ones, you can do that as well.
Ingredients
1/2 pound elbow macaroni
4 Tablespoons butter
2 eggs, slightly beaten
6 ounces evaporated milk
1/2 teaspoon hot sauce
1 teaspoon kosher salt
fresh black pepper, to taste
1/2 teaspoon dry mustard
10 ounces sharp cheddar cheese, shredded
a few fresh basil leaves, for garnish
(6-8 servings)
Directions
Preheat the oven to 350ºF.
Line a baking sheet with parchment paper.
Bring a large saucepan of water to boil over high heat.
Add 1/2 teaspoon salt and 1 tablespoon olive oil.
Once boiling, add elbow macaroni and cook according to package directions.
When pasta is done, remove from heat, drain and return to the saucepan.
Add the butter and toss until the butter has melted.
In a medium bowl, combine the eggs, evaporated milk, hot sauce, salt, pepper, and mustard.
Stir the egg and milk mixture into the pasta and mix until well combined.
Add 3/4 of the cheese, reserving a small amount to sprinkle over the tops of the individual ramekins. Stir until well combined.
Transfer the saucepan back to the stove top and heat on low for 3 minutes, until the cheese is melted and creamy. Stir constantly.
Evenly divide the pasta into 6 - 8 individual ramekins.
Sprinkle over the remaining cheese.
Transfer the ramekins to the prepared baking sheet and then put the baking sheet into the preheated oven.
Cook pasta until the cheese is melted and golden brown, about 8-12 minutes.
Garnish with fresh basil leaves, if desired.
Serve immediately.