Raspberry Lush Cheesecake Recipe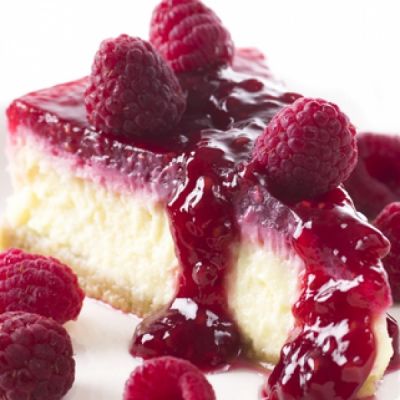 A Sweet and delicious recipe for raspberry lush cheesecake. This is a family favorite dessert that everyone will love.
Ingredients
Raspberry Sauce
2 2/3 cup Raspberries
1/4 cups granulated sugar
1 1/2 tsp cornstarch
Graham Crust
10 whole graham crackers, broken into pieces
1/2 cups pecans, toasted
1/3 cups granulated sugar
5 tablespoons butter, melted
Cheesecake
3 cups cream cheese, at room temperature
2/3 cups granulated sugar
1/2 cups sour cream
1 tablespoon cornstarch
4 large eggs
1/3 cups Grand Marnier or orange flavored liqueur
1 teaspoon vanilla extract
Directions
Preheat oven to 350°F
Raspberry Sauce. Puree raspberries until smooth. Press through a mesh sieve to remove seeds. Pour puree into a measuring cup and add enough water to make 1 cup, if necessary. Whisk raspberry puree, sugar and cornstarch in a small saucepan until blended. Bring to a boil over medium-high heat and cook, stirring constantly, 1 to 2 minutes or until slightly thickened. Remove from heat and let cool.
Graham Crust. crush graham crackers and pecans. Mix with sugar. Add 2 tablespoons raspberry sauce and melted butter; stir until combined. Press mixture onto bottom of 9 x 3-inch springform pan with removable bottom. Bake 10 minutes. Cool completely.
Reduce oven to 325°F.
Cheesecake. Combine cream cheese, sugar, sour cream and cornstarch in a large mixing bowl. Beat with an electric mixer on medium speed 2 minutes. Beat in eggs one at a time. Stir in Grand Marnier and vanilla; pour into prepared crust.
Bake 1 hour. Turn off oven and prop the door ajar with the handle of a wooden spoon. Let cool in the oven for 1 hour. Remove from oven and cool completely. Remove from springform pan.
Spread remaining raspberry evenly over top of cheesecake; refrigerate 1 hour.