Raspberry Plum Crumble Recipe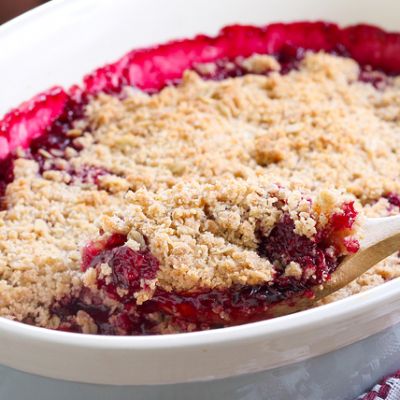 What better time to make a fruit crumble than when the fruits are all in season. Served warm is always the best with a fresh crumble!
Ingredients
Filling:
6 dark red plums,washed, stones removed and quartered
1 cup raspberries
1/4 cup caster sugar
1 Tablespoon water
Crumble:
1 cup all purpose flour
1/2 cup light brown sugar
7 Tablespoons butter, cut into pieces
Directions
Preheat oven to 350F.
Grease a medium size oven proof dish with a little butter.
Place the plums, raspberries and sugar into a small saucepan with the water and simmer for 5 minutes to soften the fruit.
Shut off and set aside.
Place the flour and sugar into a small mixing bowl.
Add the butter and stir in with a wooden spoon, then use your fingertips to rub together and form a crumble.
Transfer the fruit into the baking dish.
Top with the crumble.
Place into the preheated oven and bake for 20 minutes or until golden brown.
Remove to a cooling rack.
Serve warm or cooled.