Raspberry Swirl Cheesecake Recipe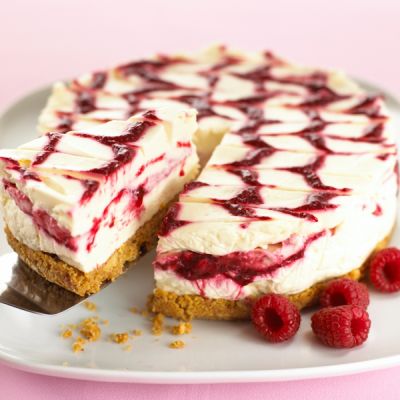 Cheesecakes are always a popular dessert and this pretty raspberry swirl cheesecake will be well enjoyed.
Ingredients
Graham Crust
2 cups graham cracker crumbs
1/2 cup butter, melted
1/4 cup cane sugar (you can substitute granular or brown)
Filling
2 (8 ounce) packages cream cheese, at room temperature
1/2 cup granulated sugar
1/2 teaspoon pure vanilla extract
2 eggs
5 Tablespoons red raspberry preserves (seedless)
*optional, fresh raspberries
Directions
Crust
Preheat oven to 350 degrees F.
Mix together the graham crumbs, sugar and melted butter and press into 8 inch springform pan.
Bake for 6 - 8 minutes. Set aside to let cool then put into the refrigerator to cool more before adding the filling and baking again.
Filling
Mix cream cheese, sugar, and vanilla at medium speed with electric mixer until well blended. Add eggs and mix until thoroughly blended.
Pour mixture into the graham cracker pie crust.
Dot the top of the cheesecake with the preserves.
Cut through the batter with a butter knife several times, for a swirl or marble effect.
Bake for 40 minutes or until center is almost set. Cool. Refrigerate for 3 hours or overnight.