Raspberry Tiramisu Recipe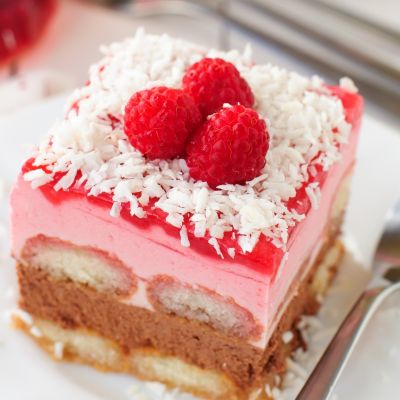 This is a delicious homemade raspberry and chocolate tiramisu recipe.
Ingredients
HOMEMADE LADY FINGERS
4 eggs separated, room temperature
2/3 cup granulated sugar
1 cup cake flour
1/2 teaspoon baking powder
COFFEE DESSERT SYRUP
2 cups strong coffee (preferably espresso, but whatever suits your taste)
1/2 cup water
1/2 cup granulated sugar
MASCARPONE FILLING
2 egg yolks (from large egg)
1 cup granulated sugar
1/2 cup water
3 Tablespoons corn syrup
2 cups mascarpone
3 cups of whipping cream
1/2 cup frozen raspberries
3 Tablespoons coffee dessert syrup
1/4 cup sifted cocoa powder
RASPBERRY GLAZE
3 cups frozen raspberries
1/4 cup granulated sugar
1 teaspoon lemon juice
1 1/2 teaspoon corn starch
GARNISH (optional)
flaked coconut
several fresh raspberries
Serves - 12
Directions
HOMEMADE LADY FINGERS
Preheat oven to 400F.
Line 2 baking sheets with baking parchment
Whip egg whites until soft peaks start to form, add 2 tablespoons from the sugar, and continue to whip till stiff and glossy.
In a separate bowl, whip egg yolks and remaining sugar until thick.
Sift together flour and baking powder into another bowl.
Alternating between flour and egg yolks, fold into egg whites until everything is well incorporated, be sure not to over mix.
Put batter into a piping bag with a large round tip, and pipe 3 inch long fingers, with enough space in between for some growth.
Bake for 8 minutes, and let cool.
COFFEE DESSERT SYRUP
Add coffee, water and sugar into a small pot and bring to a boil for about 1 minute, set aside to cool.
MASCARPONE FILLING
Whip egg yolks until it thickens and and is light.
Boil sugar, water and corn syrup for about 2 minutes.
While whipping the egg yolks, slowly pour syrup into egg yolks, continue whipping until cool.
Meanwhile beat the mascarpone until soft, mix into egg yolk mixture
In another bowl whip the whipping cream to soft peaks and fold in mascarpone mixture, set aside in fridge.
Cook frozen raspberries, breaking them up as go until they boil. Put them through a sieve and squeeze as much juice as you can, let cool completely.
With your prepared mascarpone filling split in half, to one half fold in raspberry juices, and in the other half fold in coffee dessert syrup and sifted cocoa powder, so now you have a raspberry mascarpone layer and a chocolate mascarpone layer.
RASPBERRY GLAZE
Cook frozen raspberries with sugar and lemon juice stirring often, breaking up the raspberries as they thaw out. When mixture comes to a boil and raspberries are all broken up, put mixture thru a sieve pushing out as much as juice as you can. Return juice back to heat and add corn starch to thicken.
ASSEMBLY
Dip your lady fingers into coffee dessert syrup and line the bottom of a 9 inch deep dished pan. Add chocolate mascarpone, spreading evenly over lady fingers. Layer more dipped lady fingers on top. Add raspberry mascarpone spreading evenly. Add raspberry glaze over top. Garnish with flaked coconut and fresh raspberries. Cover and chill for approximately 2 hours