Raspberry White Chocolate Mousse Recipe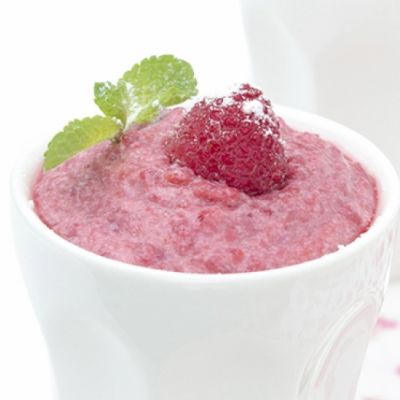 This raspberry white chocolate mousse recipe is
Ingredients
1/2 cup white chocolate, chopped
1 1/2 cups fresh raspberries
1/4 cup granulated sugar
1 cup cream cheese, softened
1 1/2 cups whipping cream, chilled
3/4 cup confectioners' sugar
Serves 6
Directions
In a double boiler, or a pot filled with water and bowl, melt chocolate over low heat. Once melted set to cool.
Put raspberries in a food processor and puree.
Beat together cream cheese, 3/4 cup of sugar and white chocolate, until light and fluffy. Set aside
Using remaining cream, whip to soft peaks with electric mixer.
Take 1/3 of whipped cream, and mix into cream cheese mixture. Fold in the rest of the whipped cream. Divide into small bowls and chill.
Garnish with fresh raspberries and fresh mint.