Red Velvet Cake Pops Recipe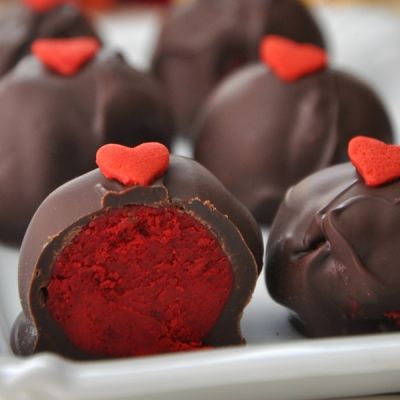 A delicious recipe for beautiful red velvet cake pops with a chocolate candy coating.
Ingredients
Cake
2 1/2 cups all purpose flour
2 cups granulated sugar
1 Tablespoon Cocoa
1 teaspoon salt
1 teaspoon baking soda
2 eggs
1 1/2 cups vegetable oil
1 cup buttermilk
1 Tablespoon vinegar
1 teaspoon vanilla extract
2oz red food coloring
Frosting
1/3 cup heavy cream
2 Tablespoons butter
1/2 teaspoon vanilla extract
3 cups confectionersí sugar
Coating
4 cups chocolate candy melts
Directions
Preheat oven to 350 degrees. Grease and flour a 9x13 inch cake pan.
In a medium bowl lightly whisk the eggs. Add the rest of the liquid ingredients and whisk until combined.
In another bowl whisk together all the dry ingredients.
Combine the wet ingredients and the dry ingredients and whisk for about a minute, until completely combined.
Pour into the prepared cake pan. Bake for 45-50 minutes or until a toothpick inserted comes out clean. Let cool completely.
After cake is cooked and cooled completely, crumble into large bowl.
to make the frosting. beat half and half and sugar with electric mixer until smooth. Add butter and vanilla and continue to beat until mixture forms soft peaks.
Add one cup of frosting into cake crumbs and mix well with hands.
Scoop out a small handful, form a round ball, and place on tray lined with wax paper. Repeat until mixture is used up.
Place them in the freezer to firm up for 30-40 minutes.
Carefully insert the cake ball into the melted chocolate coating by holding one at a time on a fork. Once covered remove and softly tap until the excess chocolate falls off.
Place on a baking sheet and chill until firm.