Rhubarb Crisp Recipe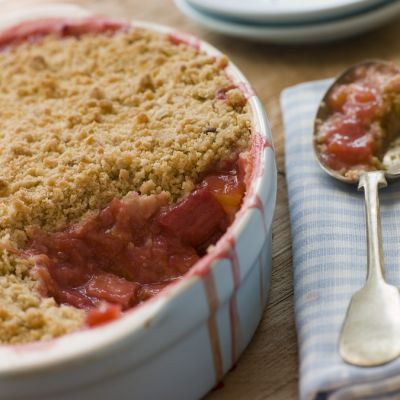 What is better than a tangy and sweet rhubarb crisp recipe made with all the classic ingredients. Serving it warm with vanilla ice cream is extra yummy!
Ingredients
Rhubarb Filling
4 cups rhubarb, cut into 3/4 " pieces
1 cup granulated sugar
1/4 cup flour
1/2 teaspoon cinnamon
Topping
1/2 cup walnuts
1/2 cup pecans
1/2 cup brown sugar
1/2 cup all purpose flour
4 Tablespoons butter, diced
1 pinch salt
Serves 4 - 6
Directions
Preheat oven to 375 degrees F.
Rhubarb Filling
Mix together rhubarb, sugar, flour and cinnamon. Spread evenly on the bottom of a casserole dish or an 8 inch square glass baking tray.
Topping
In a food processor chop up walnuts and pecans till they are in small pieces. Add in brown sugar, flour, butter and salt and mix up till its combined and crumbly.
Spread over top of rhubarb and bake for 35 minutes, or until top is golden brown. Serve.