Ricotta Cheesecake Recipe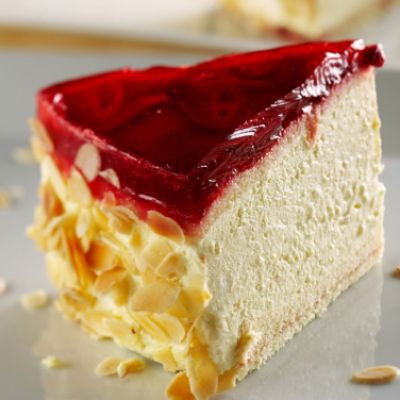 Where all of Grandmother's favorite recipes are found, just like Grandmother makes them, with a little love.
Ingredients
Crust:
1/4 cup almonds, ground
1 1/2 cups graham crackers ground
5 Tablespoon butter, melted
Filling:
2 cups cream cheese, room temperature
1 cup mascarpone cheese, room temperature
1 cup ricotta cheese
1 1/4 cups granulated sugar
1 Tablespoons lemon juice
1 teaspoon vanilla extract
4 large eggs, room temperature
Strawberry Glaze
3 cups frozen strawberries
1/4 cup granulated sugar
1 teaspoon lemon juice
1 1/2 teaspoon corn starch
2 cups fresh cut strawberries
sliced almonds
Serves 6 - 8
Directions
Preheat oven to 325F
Crust
In a food processor grind almonds and graham crackers. Add to a bowl and mix melted butter. Press into a bottom 9 inch spring form pan. Bake for 10 minutes. Set aside and cool.
Filling
In a mixing bowl beat together cream cheese, mascarpone cheese, ricotta cheese, and sugar until smooth and creamy. Add in lemon juice and vanilla, mix till incorporated. Adding eggs one at a time beat after each addition. Pour batter into prepared pan, and bake for 1 hour or until cheesecake has set. Let cool, then refrigerate.
Strawberry Glaze
Cook frozen raspberries with sugar and lemon juice stirring often, breaking up the strawberries as they thaw out. When mixture comes to a boil and strawberries are all broken up, put mixture thru a sieve pushing out as much as juice as you can. Return juice back to heat and add corn starch to thicken.
Assembly
Once cheesecake has been chilled in refrigerator, place fresh cut strawberries on top of cheesecake, pour strawberry glaze over them. Place back in refrigerator. Once glaze has set, run a knife along sides of pan and release spring form pan. Press sliced almonds along sides, and serve.