Roast Beef Sub Recipe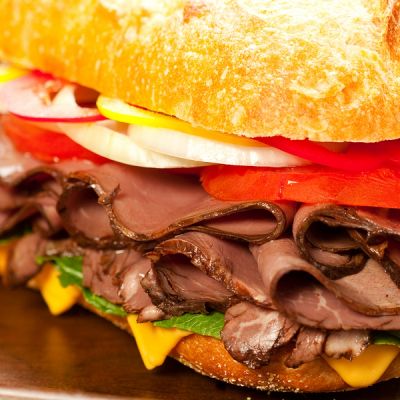 This is a simple but classic recipe for a roast beef sub.
Ingredients
1/4 cup mayonnaise
1 teaspoon garlic powder
1 teaspoon onion powder
2 Crusty sub buns
300 grams roast beef (Thinly sliced)
6 - 8 slices of cheddar cheese
6 - 8 leaves of romaine lettuce
6 - 8 slices of tomatoes
1/2 small onion (Thinly sliced)
1/2 red pepper (Thinly sliced)
1/2 yellow pepper (Thinly sliced)
Dijon mustard (good quality)
Makes 2 Subs
Directions
In a small bowl, mix together mayo, garlic powder and onion powder.
Take your bun and cut in half. Spread mayo and mustard on both sides of buns.
On bottom half of buns layer cheese, lettuce, roast beef, tomatoes, onions, and peppers. Put top half of bun on top, cut sandwich in half, and Serve.