Roasted Baby Potatoes Recipe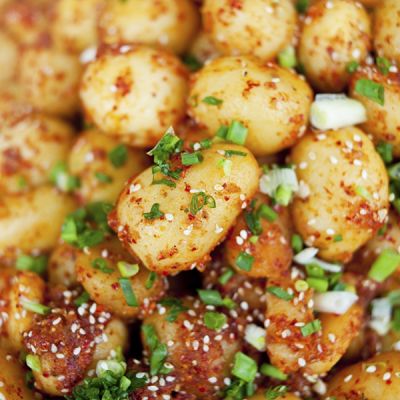 This roasted baby potato recipe has some wonderful flavors and is very easy to prepare. These potatoes would go very well with a meat dish.
Ingredients
30 Baby Potatoes
2 Tablespoon Olive Oil
3 teaspoons red chili powder
1/2 teaspoon turmeric powder
1 teaspoon coriander powder
2 teaspoons pain yogurt
salt to taste
a few fresh chives and a sprig of coriander leaves, chopped
*Optional; sesame seeds to garnish
Directions
Wash the potatoes and put them into a saucepan. Put just enough water to cover the potatoes Cook for 10-15 minutes until cooked but still firm.
Strain, let cool enough to peel the skins off.
Place the potatoes into a mixing bowl.
Preheat oven to 375 degrees F.
Grease a cooking pan with olive oil.
In a small bowl mix together the the chili, turmeric, and coriander powders, and the yogurt and stir together. Add the this mixture to the potatoes. Mix well, using a spatula till all the potatoes gets coated with the marinade.
Spread the potatoes onto the prepared cooking pan, and try not too stack the potatoes.
Bake for 15-20 minutes, or until you see a nice crispy texture to the outside of the potatoes.
Remove when ready.
Garnish with freshly chopped chives and coriander leaves and Sprinkle on sesame seed if desired.