Roasted Beef Sandwich Recipe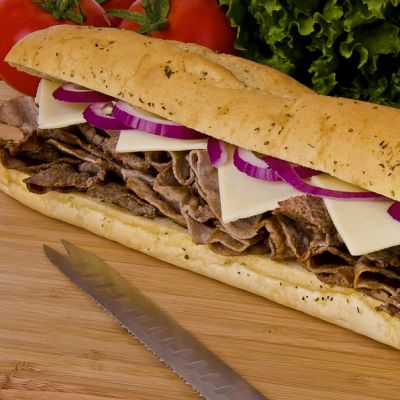 This roasted beef sandwich recipe teaches you how to roast the beef and then also gives a delicious combination of toppings.
Ingredients
3 to 4 pound beef bottom round steaks or rump roast
2 envelopes onion soup mix
4 Tablespoons olive oil
Salt and fresh ground pepper
3 (14 ounce) cans beef broth
1 (12 ounce) cans beer
1 small onion, quartered
2 x 12 inch baguettes
2-4 Tablespoons horseradish
2 Tablespoons butter, softened
8-10 slices provolone or swiss cheese
1/2 red onion, slices into thin rings
(Serves 2-4)
Directions
Arrange a rack to the middle of your oven and preheat the oven to 250°F.
Pat the roast dry using paper towels.
Rub 2 Tablespoons of olive oil over the tenderloin using your hands. Sprinkle with salt and fresh pepper. Rub again until the roast is evenly coated. Set aside.
In a large frying pan over medium-high heat, heat the remaining 2 Tablespoons of olive oil until just shimmering. Dont allow oil to smoke.
Once the oil is hot, gently place the beef in the pan. Sear on all sides until golden brown all over, about 10 minutes.
Once browned, transfer the tenderloin to a 13 x 9 inch baking dish
In a medium bowl, combine soup mix, broth and beer. Mix well until soup mix has dissolved.
Pour the liquid over roast in the pan.
Sprinkle the chopped onions around the roast.
Place roast in the oven and bake for 2 to 3 hours, basting frequently with the liquid in the pan. When done, beef should be tender and separate easily with a fork.
Note: Cover pan with foil if roast begins to dry out too much.
Once the roast is done, remove from oven and allow to rest for 15 minutes before slicing.
Meanwhile, prepare baguettes by cutting them in half.
Spread 1-2 Tablespoons of horseradish on one side of each Baguette.
Spread 1 Tablespoon of the softened butter on the other side of each Baguette.
Slice roast into thin slices and place evenly along each baguette.
Top the roast with 4-5 slices of cheese and some red onion slices.
Sprinkle over some salt and fresh ground black pepper.
Serve immediately with drippings from the pan in a little bowl on the side for dipping, if desired.