Roasted Garlic And Rosemary Mashed Potatoes Recipe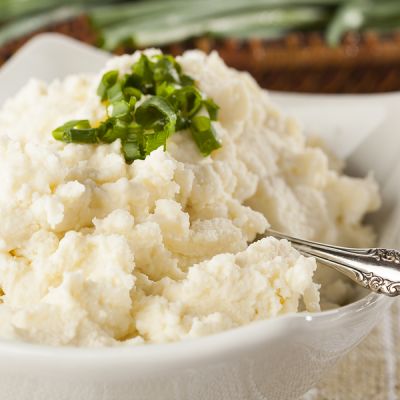 These mashed potatoes are infused with additional garlic flavor. You first roast fresh garlic, mash it and add it to the boiled potatoes when mashing them.
Ingredients
Makes 4-6 Servings
Roasted Garlic
1 small whole bulb garlic
1 Tablespoon olive oil
3 pinches of dried Rosemary
Potatoes
5 medium size russet potatoes
1 Tablespoon dried rosemary
3 Tablespoon butter
1/3 cup milk
1/4 cup cream
1/2 teaspoon salt
1 Tablespoon chopped green onion
Directions
Roasted Garlic
Preheat oven to 375F.
Place the bulb of garlic on a 12 inch piece of aluminum foil.
Drizzle olive oil over the garlic, and top with 3 pinches of dried rosemary.
Create an aluminum foil tent over the garlic and tightly wrap the edges of the foil.
Place on a baking sheet and roast in the oven for about 40 minutes.
Remove from the oven. Unwrap the roasted garlic and use the flat part of a small knife to press down on the end of each clove to squeeze out the roasted garlic. Set aside.
Peel and wash the potatoes and cut off any scars or bruises. Cut into similar size pieces.
Place the potato pieces into the saucepan and put enough water to cover the potatoes.
Bring the water to a boil cook for about 20 minutes or until fork tender.
When the potatoes are done, strain the water from the potatoes
.
Add the salt, pepper, butter, roasted garlic, milk, and cream. Whip with a hand mixer or potato masher.
Do a quick taste test and add salt to taste.
Garnish with chopped green onions.