Roasted Sweet Potatoes Recipe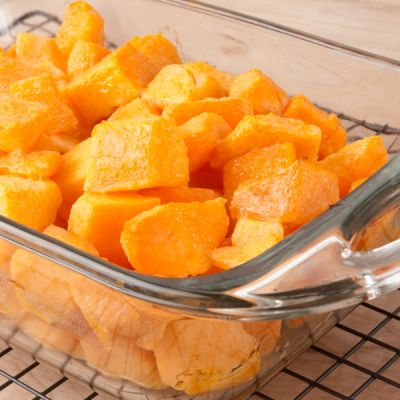 Roasted sweet potatoes are wonderful served with a nice chicken or fish meal. They are high in nutrients and are colorful and appealing.
Ingredients
7 cups sweet potatoes, scrubbed, cut in small cubes
olive oil to grease the pan
1 Tablespoon olive oil to drizzle
3/4 teaspoon salt
1 Tablespoon butter, melted
Directions
Preheat oven to 325 degrees.
Grease a shallow oven proof pan with olive oil.
Peel and chop the sweet potatoes into pieces.
Place the sweet potatoes into the prepared pan.
Drizzle the potatoes with the oil, sprinkle with salt and toss to coat.
Place in the oven and bake for 40-50 minutes or until the potatoes are soft when pierced with a knife.
Remove from oven.
Preheat the broiler.
Drizzle the sweet potato mixture with melted butter; stirring gently to coat.
Broil for 10 minutes to lightly brown.