Rocky Road Fudge Recipe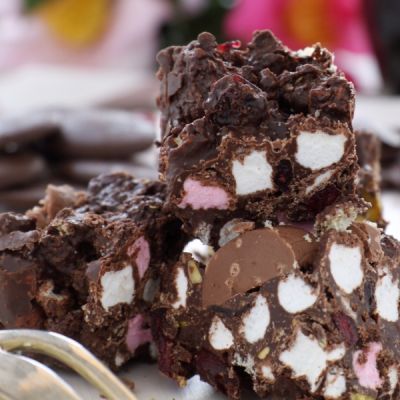 An easy sweet fudge recipe treat with a great variety of textures and flavors.
Ingredients
2 cups semisweet chocolate chips
2 cups milk chocolate chips
1 cup peanut butter
2 ½ cups peanuts
2 ½ cups mini marshmallows white and colored
Directions
In a large double boiler, or in a heat-proof bowl set over simmering water, melt all the chocolate chips over low heat.
Stir in the peanut butter until smooth. Stir in the peanuts.
Remove from heat and allow the mixture to cool slightly, then stir in the marshmallows.
Line a 13x9" pan with tin foil and grease the foil with butter.
Spread the rocky road fudge mixture into the pan and refrigerate until set, at least 2 hours.
Once they have hardened, lift the bars from the pan using the foil. Set on a cutting board and cut into the desired amount of bars. Store in an airtight container in the refrigerator so they don't melt. They can also be frozen for longer storage if you want to make ahead for gifts.