Rum Balls Recipe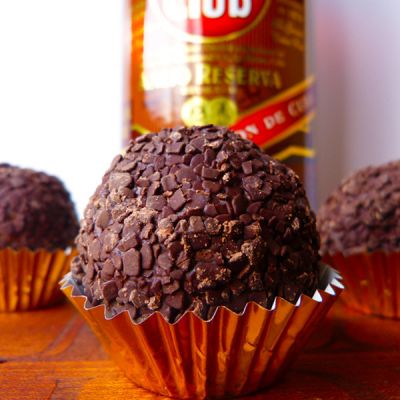 A classic holiday rum ball recipe with gorgeous rich chocolate brownie and flavorful dark rum.
Ingredients
1/2 cup unsalted butter
1 1/4 cups bittersweet chocolate,
(grated or chips)
2 large eggs
1/2 cup brown sugar
1 teaspoon pure vanilla extract
1/2 teaspoon salt
3/4 cup all purpose flour
1/4 cup of dark rum
Coating ideas: confectioner's sugar, cake sprinkles, crushed nuts
Directions
Preheat the oven to 350 degree F and coat a long rectangular baking dish butter.
In the top of a double boiler melt chocolate and butter over low heat.
In a separate bowl, whisk together the eggs, brown sugar, vanilla, and salt.
Stir in the melted chocolate mixture and mix well, then fold in the flour.
Pour the batter into the baking dish and spread evenly.
Bake for 15 minutes, or until a tester inserted into the center comes out clean.
Let completely cool, in the pan, on a cooling rack.
Break up the cooled cake mixture in a bowl and add the rum.
Stir well by hand until the mixture is completely moist and starts to form a ball.
Refrigerate the mixture for 1 hour.
Remove from the fridge and shape into 1-inch balls.
Roll the individual balls in your preferred coating.
Place the balls on a baking sheet and place back into the refrigerator for about an hour,
until cold.
Serve chilled or at room temperature.