Rustic Apple Tarts Recipe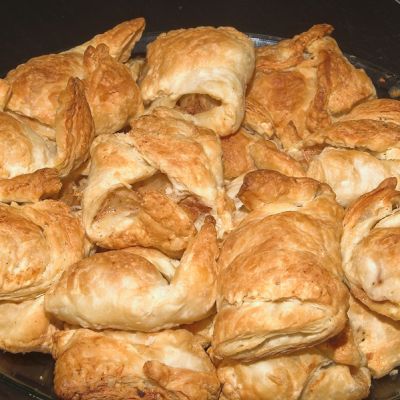 This rustic apple tart recipe makes yummy individual apple fold over tarts. Very easy and extra delicious warm from the oven.
Ingredients
Makes 8
Rustic Tart Dough
2 cups all purpose flour, plus extra for dusting
1/4 cup granulated sugar
8 ounces butter, chilled, cut into small pieces
1 Tablespoon pure vanilla extract
2 Tablespoons water
Apple Filling
4 cups cored, peeled apples and cut into 1/4 inch cubes (3-4 apples)
1 cup unsweetened applesauce
1 teaspoon cinnamon
1 Tablespoon butter
Directions
Dough
Place all the ingredients for the dough into a large bowl and using a pastry cutter and a cutting motion, combine until the dough just comes together.
Lightly dust your work surface with flour. Turn dough out onto surface and gather into a ball.
Wrap the dough ball in plastic wrap. Chill in refrigerator for at least 2 hours, until firm.
Apple Filling
While the dough is chilling make the filling.
Peel, core and slice the apples into small 1/4 inch pieces.
Place the applesauce into a small sauce pan and add the apple pieces.
Bring to a boil over medium heat, then turn down and let simmer for 10-15 minutes, until the apple pieces start to soften.
Stir in 1 teaspoon cinnamon and the butter. Shut off and set aside and let cool before using..
Assembly & Baking
Preheat oven to 375ºF.
Line a baking sheet with parchment paper.
On a lightly dusted a work surface, roll the chilled dough to about 1/8-inch thick.
Cut the rolled dough into eight 5-inch squares.
Gather up scraps and re-roll dough, if necessary.
In the center of each square, place about 1/3 cup of the cooled apple filling mixture. Be careful not to get anything on the edges.
To wrap the apple tarts, working carefully, take the opposite sides of a square of dough and gently stretch each side up and over the filling. Tuck in the underneath layer pressing the two ends together, then take the remaining opposite corners, pull up the dough together and overlap at the top to seal.
Place individual pies 2 inches apart on prepared baking sheet.
Place in the preheated oven and bake for about 30 minutes or until the crust is golden brown.
Remove and let cool on a cooling rack until you can handle them.
Really delicious when served warm and fresh from the oven.