Salmon Broccoli Quiche Recipe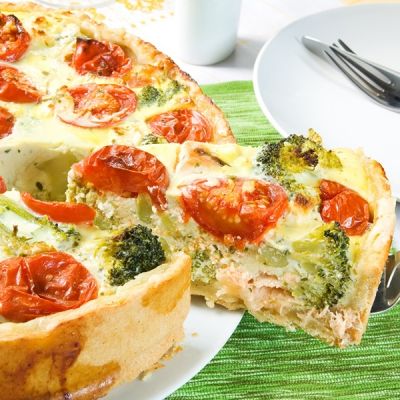 A Tasty recipe for quiche with salmon and broccoli. Delicious enjoyed with a salad.
Ingredients
Pastry
1 cup flour
1/2 teaspoon salt
1/4 cup olive oil
1/4 cup ice water
Filling
2 cups cooked salmon cubes
3 tbsp Mayonnaise
4 cups broccoli florets, blanched
3/4 cup Mozzarella cheese, grated
4 large eggs
150ml semi skimmed milk
1 small onion, finely chopped
1 garlic clove, chopped
Pepper
1/2 cup grape tomatoes, halved
Directions
Preheat oven to 400 degrees F. lightly oil a 9 inch deep dish pie plate
For the pastry. Mix flour and salt with fork. in a separate bowl beat oil and water with whisk to thicken. Pour into flour and mix with fork. Press into pie crust.
Heat mayonnaise in a pan and add the onion, garlic and broccoli. Cook for 5 mins, stirring constantly until softened.
Place the salmon then broccoli mixture mixture in the pastry case, and sprinkle with cheese.
Whisk the eggs and milk, season with pepper.
Pour the egg mixture over the vegetables and cheese, top with halved tomatoes.
Bake in the oven for 20-30 minutes or until cooked.