Salmon Glazed With Honey Mustard Recipe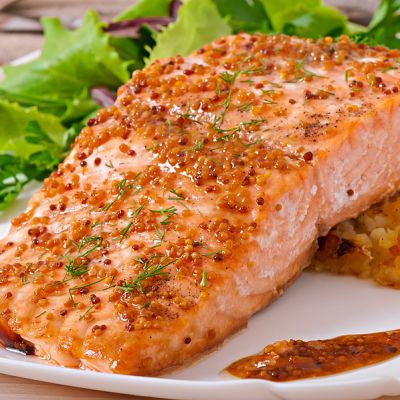 Mouthwatering! This salmon is baked with a honey mustard glaze.
Ingredients
Serves 4
2 lb. wild salmon fillet
1 Tablespoon Dijon mustard
1 Tablespoon wholegrain mustard
1 Tablespoon honey
1 clove garlic, minced
salt and freshly ground black pepper
Directions
Preheat the broiler in the oven.
Line a baking sheet with aluminum foil and lightly grease the foil with olive oil.
In a small bowl, stir together the Dijon and wholegrain mustard with the honey and minced garlic.
Place the salmon fillet with the skin side down onto the prepared pan and season lightly with salt and pepper.
Use a pastry brush to spread the mustard/honey mixture evenly on.
Place into the preheated oven and bake for 10-15 minutes or until the salmon flakes easily when tested by separating with a fork.
Remove and serve nice and hot.