Salmon Soup Recipe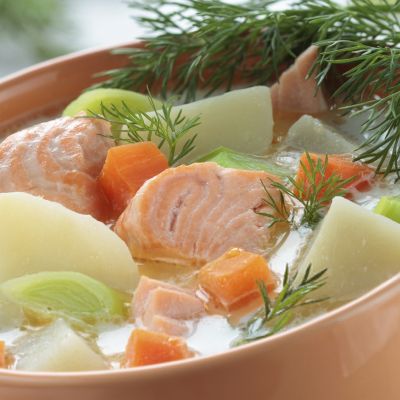 This salmon soup recipe is made with potatoes, carrots and a creamy broth.
Ingredients
4 cups water
3 medium potatoes, peeled and cubed
1 large onions, diced
2 medium carrots, peeled and chopped
2 stalks celery, sliced
1 teaspoon salt
1/4 teaspoon pepper
1 bay leaf
2 lbs skinless salmon fillet, cut into 1 inch pieces
1 cup cream
1 small bunch dill weed
Directions
In a large soup pot, place onions, celery, carrots.
Add potatoes, salt, pepper and bay leaf, cover with water.
Heat over medium-high heat to a boil.
Cover and simmer until potatoes are almost tender, about 10 minutes
Stir in salmon. Cover and simmer until fish flakes easily with fork, about 5 minutes longer.
Remove bay leaf.
In a medium bowl, stir 1/2 cup of the soup liquid with whipping cream.
Gently stir cream mixture into the soup; heat through.
Add salt and pepper to taste.
Sprinkle with dill weed to serve.