Sausage And Potato Soup Recipe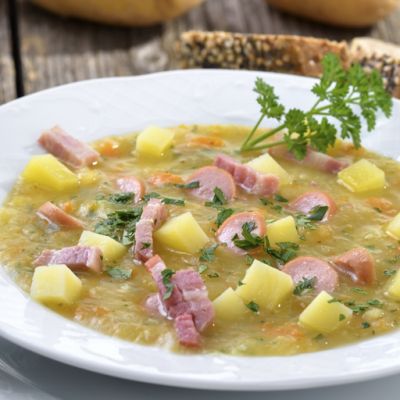 This is a yummy sausage and potato soup that is warming an filling on a cool day.
Ingredients
1 large onion, diced
3 stalks diced celery, diced
1 large carrot, diced
6 cups soup broth (chicken, vegetable or beef)
4 cups potatoes, (about 3 or 4 potatoes) peeled, cubed and washed
1 teaspoon salt
1 teaspoon ground black pepper
1 cup diced cooked ham
1 cup sausage, cut to 1/2 inch rounds
2 cups milk + 5 Tablespoon all purpose flour
Directions
Heat the butter in a large soup pot.
Add onion, celery cook just until onions are soft.
Stir in broth.
Add the potatoes and carrots, ham and sausage and bring to a boil. Add salt and pepper.
Turn down the heat and simmer for 30 minutes.
Stir the flour into the milk with a fork, then add the milk paste to the soup and return to a boil for 3 minutes.
Reduce to simmer and cook for another 10 minutes.
Keep a lid on the pot when simmering.
Do a taste test and season to taste.
Garnish with parsley to serve.