Scalloped Potatoes And Ham Casserole Recipe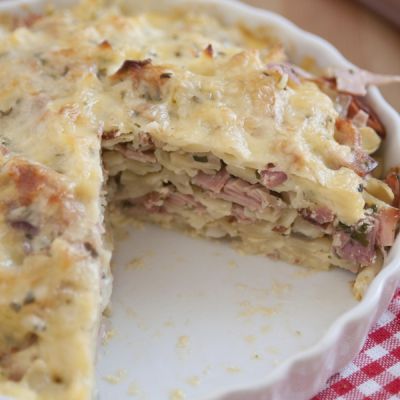 This scalloped potatoes and ham casserole is a great way to turn a plain old potato into a very special dish. Delicious served with a spinach salad and baby tomatoes.
Ingredients
3 large potatoes (or 5 small to medium ones)
2 cups cooked deli ham slices ( about 1 lb)cut into small pieces
1 (10 3/4 ounce) can cream of potato soup
3/4 cup milk
2 cups monterey jack cheese, shredded
salt and pepper to taste
Directions
Preheat oven to 400 degrees F.
Grease a shallow baking dish with butter.
In a med bowl, mix milk and soup until smooth. Set aside.
Peel and slice, wash and dry potatoes cut into 1/4 inches or a little thinner slices.
Arrange half the potato slices in a layer in the greased, shallow baking dish.
Top potatoes with a sprinkle of salt and pepper, half the soup mixture, half the ham pieces, and then half the cheese.
Repeat for second layer.
Cover with aluminum foil and bake for 45 minutes or until potatoes are tender.
Let rest for 10 minutes before serving.