Seafood Marinara Pasta Recipe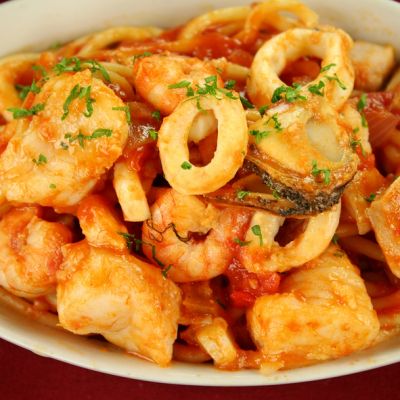 This recipe for seafood marinara pasta is so easy to make.
Ingredients
8 ounces pasta (spaghetti or linguine)
16 ounces mixed seafood (your choice)
1 Tablespoon olive oil
1 small yellow onion, chopped finely
2 garlic cloves, crushed
1 fresh small red Thai chile, chopped finely
16 ounces stewing tomatoes
1/3 cup fresh flat-leaf parsley, coarsley chopped
Directions
Cook the pasta in a large saucepan el dente. Drain and set aside.
In the meantime in a large skillet over medium-high heat, cook seafood mix in olive oil,stirring frequently.
Add onion, garlic and chile to the seafood.
Saute for about 5 minutes. Add in stewing tomatoes and cook for another 5 minutes.
Stir in the parsley. Do a taste test and season with salt and pepper to tast.
Serve over the prepared pasta.