Seafood Pie Recipe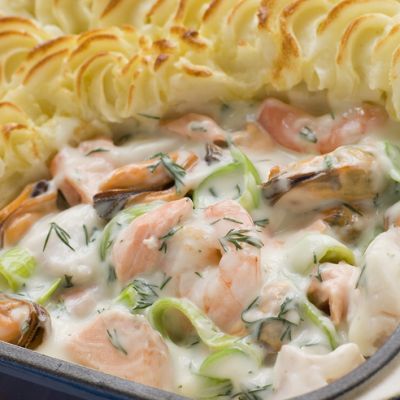 This seafood pie recipe is so creamy and flavorful. It is a must try for seafood lovers and a wonderful meal to serve on a Sunday night.
Ingredients
2 1/2 cups fish stock
2 pound salmon fillet
2 pound halibut fillet
8 ounces prawns, deveined and peeled
8 ounces small scallops
8 ouces mussels, no shells
2 pounds russet potatoes, peeled and chopped into chunks
6 Tablespoons butter, divided
1/4 cup plain flour
12 ounces leeks, sliced
4 ounces mushrooms, sliced
2 Tablespoons fresh dill, chopped
salt and black pepper
(Serves 6)
Directions
Poach the salmon fillet by putting it in a pan over low heat and cover with boiling water. Simmer for 15 minutes.
Once cooked through, remove the salmon from the water and set aside.
Next poach the halibut fillet by putting it in the same pan of hot water and allow to simmer over low hear for 15 minutes.
Once cooked through, remove the halibut from the water and set aside.
Allow both the salmon and halibut to cool, then remove bones and skin.
Using a fork, flake the fish and set aside in a bowl.
Add the prawns to a pan of boiling water. Cook until the prawns float.
Once cooked, remove the prawns from the pan and rinse under cold water.
Add the prawns to the bowl with the flaked fish.
Repeat the same process with the with scallops and muscles.
In large sauce pan set over high heat, boil the potatoes for 20 minutes.
Once cooked, drain the potatoes. Add 2 Tablespoons of butter and season to taste with salt and pepper. Mash potatoes, adjusting seasoning if necessary. Set aside.
To make the sauce for the pie, you need to make a roux. To do this, begin by melting 2 tbsp butter in a medium sauce pan over medium heat.
Once the butter has melted, add the 1/4 cup of flour.
Cook, stirring constantly, for one minute.
Gradually pour in the fish stock, continuing to stir constantly, until the roux is smooth.
Reduce the heat to low and cook for 10 minutes, stirring occasionally. Season mildly with salt and pepper.
In another sauce pan, set over medium high heat, melt the remaining butter.
Add the leeks and mushrooms and cook for 5 minutes, until tender.
Preheat the oven to 375ºF.
Add the mushrooms and leeks to the bowl with fish and seafood. Add the chopped dill.
Pour the roux over the seafood and gently fold together.
Gently spoon the seafood mixture into a large oven proof dish.
Spoon or pipe the mashed potatoes over the top of the seafood, completely covering the seafood mixture.
Transfer the pie to the preheated oven and cook for 30 minutes or until the potatoes are golden and lightly toasted.
Serve hot.