Seasoned Roasted Potatoes Recipe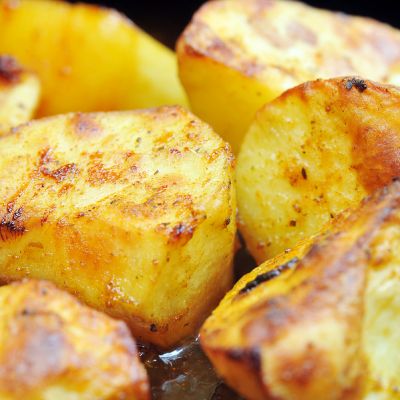 These season roasted potatoes will go well with most any dish.
Ingredients
6 medium size potatoes
Seasoning Mix
2-3 garlic cloves, minced
1/4 cup olive oil
1/4 teaspoon pepper
1/2 teaspoon salt
1/8 teaspoon ground cloves
1/4 teaspoon ground cinnamon
1/2 teaspoon ground ginger
1/4 teaspoon cayenne (or to taste)
Directions
Preheat the oven to 400F.
Line a baking sheet with aluminum foil and grease the foil lightly with olive oil.
Peel and rinse the potatoes and cut into quarters.
Place the potatoes into a large pot, cover with water and bring to a boil. Cook for 10 minutes to par-boil. Shut off and drain. Transfer the potatoes to a large mixing bowl.
Put all the ingredients for the seasoning mix into a bowl and stir together.
Drizzle onto the potatoes and gently toss to coat.
Place the potatoes onto the prepared baking sheet and make sure all the seasoned oil that may be in the bottom of the bowl gets drizzled on.
Place into the oven and bake 30-40 minutes until nicely browned and tender.