Shepherd Pies Recipe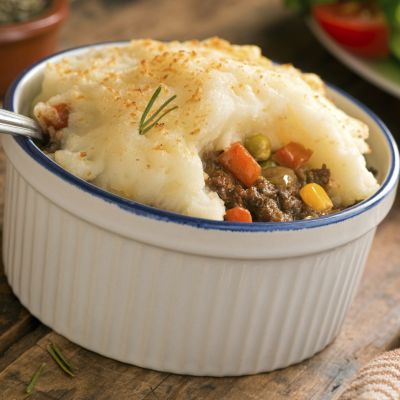 Making this delicious individual shepherd pie recipe is very simple to do meal in a bowl. Serve it with a colorful green salad.
Ingredients
3 potatoes enough or enough to make 3 cups mashed potatoes
1 cup milk
1 tablespoon butter
1 1/2 cups beef broth
1/2 teaspoon salt
1/2 teaspoon pepper
2 cups cooked lean ground lamb
2 cups frozen mixed vegetables
paprika
(Serves 4)
Directions
Preheat oven to 350 degrees F.
Begin by peeling and washing the potatoes.
Cut them into chunks, put into a saucepan and just cover with water. Turn on high and bring to a boil, then turn down to simmer. Let the potatoes cook for about 15 minutes or until soft when poked with a knife. When cooked, drain and mash. Add the butter, and milk and season with a little salt and pepper to taste.
Use an electric mixer to make the potatoes really creamy in texture.
While the potatoes are boiling, cook the meat.
In a large frying pan cook the lamb until it is crumbly and there is no pink showing. Drain off any fat. Stir in the beef broth and season to taste.
Stir in the frozen vegetables.
Divide the meat mixture into 4 individual oven safe bowls. Divide the potato mixture atop each casserole and sprinkle with paprika.
Place the shepherd pies into the oven and bake for 20-25 minutes or until heated right through.