Shrimp Cocktail Recipe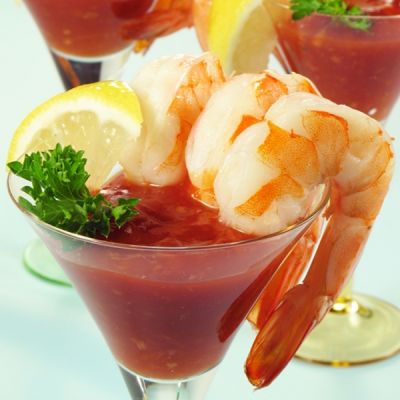 This recipe for shrimp cocktail is an all time favorite and makes for a tasty, festive presentation.
Ingredients
24 large shrimp, uncooked, peeled and deveined
Sauce
1 cupketchup
4 Tablespoonshorseradish
4 Tablespoonslemon juice
4 teaspoonsWorcestershire sauce
1 teaspoonhot pepper sauce
Garnish
1 fresh lemon cut into small pieces
fresh parsley sprigs
Directions
Shrimp
In pot of boiling salted water, cook shrimp until pink, about 5 minutes. Drain and pat dry.
Sauce
Put all the sauce ingredients into a bowl and stir together until well combined.
Assembly
You can decide based on the glassware you have how many shrimp you will be putting around each glass.
Very small glassware works with 3, you may have larger glassware that looks nicer with 6-8. Portion out the sauce accordingly.
Garnish with a lemon wedge and fresh parsley. Keep refrigerated until you are ready to serve.