Shrimp Pad Thai Recipe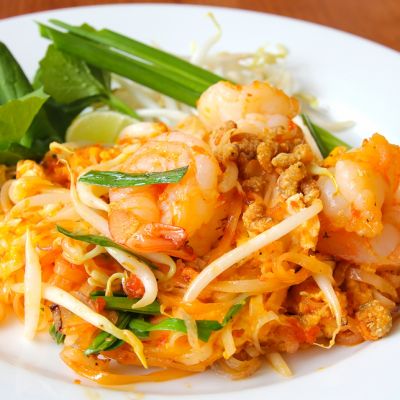 This shrimp pad thai recipe also includes instructions on how to make the sauce.
Ingredients
4 cups cooked rice noodles
1 cup boiling water
2 Tablespoons tamarind paste
4 Tablespoons fish sauce
4 Tablespoons brown sugar
3 Tablespoons vegetable oil
2 eggs, scrambled
4 cloves garlic, minced
1 onion, diced
500 grams raw shrimp, peeled, deveined and cut into 1/2 inch pieces
200 grams firm tofu, cut into 1/2 inch pieces
2 cups bean sprouts, rinsed and dried
1/4 cup green onion, cut into 1/2 inch pieces
1/2 cup unsalted peanuts, crushed
2 teaspoons red chili flakes
2 limes, cut into wedge
Directions
In small saucepan, mix together boiling water and tamarind paste until well mixed.
Add fish sauce and brown sugar and cook for 3-4 minutes until sugar is dissolved.
In large wok, heat vegetable oil to medium high heat.
Add garlic and onion and shrimp and fry for 2-3 minutes.
Add tofu and cook an additional 2 minutes.
Add rice noodles and sauce from saucepan and cook, stirring to mix well, for 2 to 3 minutes.
Reduce heat and add bean sprouts, green onion, peanuts and red pepper flakes.
Toss well and serve with lime wedges.