Shrimp Spring Rolls Recipe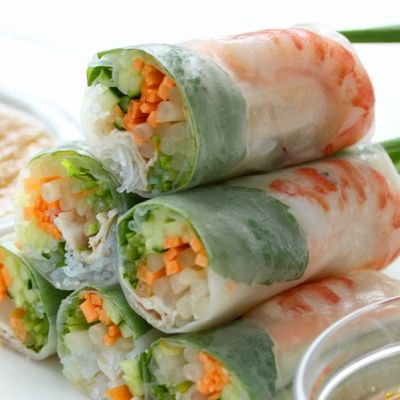 This shrimp spring roll recipe provides a really tasty meal choice which includes fresh vegetables and shrimp as well as a flavorful dipping sauce.
Ingredients
Rolls
2 cups water
8 large shrimp, peeled and deveined ( prawns)
1 ounce cellophane noodle
1 cup boiling water
1/2 cup carrots julienne
1/4 cup peeled seeded and julienne cucumber
1/2 cup thinly sliced cabbage
2 Tablespoons chopped fresh cilantro
4 rice paper, rounds 8 inches in diameter
4 large fresh basil leaves, halved lengthwise
Sauce
2 Tablespoons hoisin sauce
fresh lime juice
1 1/2 teaspoons fish sauce
1 1/2 teaspoons natural peanut butter
1/4 teaspoon red pepper flakes
1 pinch brown sugar
(Makes 2 servings)
Directions
Rolls
Bring 2 cups of water to boil in a small saucepan.
Place the shrimp into the boiling water, then immediately remove from the heat. Cover with a lid and let the shrimp poach for about 3 minutes until they are pink and opaque. Use a slotted spoon to transfer the cooked shrimp to a bowl of ice water to let cool.
Drain the shrimp and slice them in halves lengthwise. Place into the refrigerator until needed.
Place the noodles into a heat proof bowl.
Boil some water.
Pour over the noodles and let sit for 10 minutes.
Drain the water and leave the noodles in the bowl.
Have ready the the carrot, cucumber, cabbage, and cilantro.
Prepare the working area with a sheet of double thickness paper towels.
Fill a large, shallow baking dish with water and place 1 of the rice-paper rounds into the water. Soak for about 30 seconds until it is pliable. You will repeat the soaking process for each rice paper round you use.
Arrange 1/2 cup of the noodle mixture divide and arrange the carrots, cucumber and cabbage and cilantro on the bottom half of the wrapper.
Fold the bottom edge toward the center and roll up the wrapper halfway, making sure to wrap tightly around the filling.
Tuck 2 basil leaf halves along the inside crease of the half-rolled wrapper.
Divide the shrimp, and place it along the crease.
Fold the right and left edges of the wrapper over the filling and finish rolling up.
Repeat with the remaining wrappers, filling, basil and shrimp.
Place the finished rolls onto a plate and cover with damp paper towels.
Sauce
In a small bowl, stir together until well blended, the hoisin sauce, green onion, lime juice, fish sauce, peanut butter, red pepper flakes and brown sugar.
When you serve, cut the rolls in half and serve with the sauce.