Simple Chicken Noodle Soup Recipe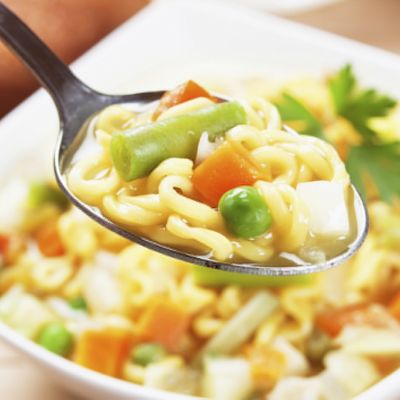 This is a simple chicken noodle soup recipe that warming to the soul.
Ingredients
2 Tablespoon butter
1 teaspoon minced garlic
2 carrots, diced
2 stalks celery, diced
1 medium onion, diced
4 cups chicken broth
1 cup water
1 cup cooked chicken, cut into pieces
2 cups green beans, cut
1 teaspoon basil, crushed
salt and pepper
1/4 lb egg noodles or pasta of choice
3/4 cup peas
Directions
In a large soup pot, saute in butter the onions, carrots, celery, and garlic until softened, about 5 minutes, stirring.
Add in water and chicken broth, bring to boil, reduce heat and simmer for 5 minute.
Add in chicken and green beans.
Season with basil, salt and pepper.
Add noodles and simmer 10 minutes or until noodles are tender.
Stir in peas, heat through.
Adjust seasoning to taste.