Sloppy Joe Biscuits Recipe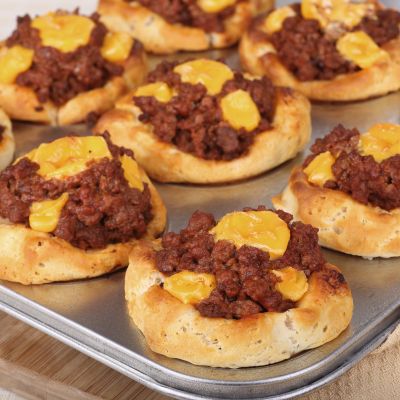 Easy to make and serve for those 'fun' meals!
Ingredients
1 teaspoon olive oil
1 lb. ground beef
1/2 cup ketchup
4 teaspoons granulated sugar
4 teaspoons mustard
4 teaspoons vinegar
4 teaspoons Worcestershire sauce
1 Tablespoon dried minced onion flakes
1 (can) 10 count regular refrigerated biscuits(like Pillsbury)
1/2 cup medium cheddar cheese, grated
Directions
Preheat oven to 375F.
Have ready a standard muffin tin.
Heat the olive oil in a large skillet and add the ground beef. Cook over medium heat until cooked through. Break the beef into a crumble texture as it cooks. Drain any fat.
Add ketchup, sugar, mustard, vinegar, Worcestershire sauce and minced onion flakes. Simmer over low heat for 1 minutes, allowing the flavors to blend.
Separate the biscuit dough and gently press each piece firmly into the bottoms and up the sides of an ungreased muffin tin.
Evenly divide the meat mixture between the cups. Top each with the grated cheese.
Place into the preheated oven and bake 18 - 20 minutes or until biscuits are golden brown and cheese is melted.
Remove from oven and let the sloppy joe biscuits cool for a few minutes before removing them from the tin.
Use a butter knife to separate the cups from the tin if needed.