Slow Cooker Sweet And Sour Pork Recipe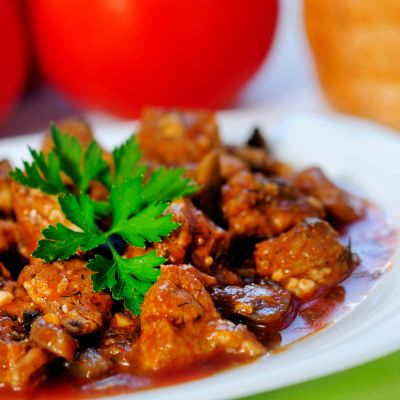 A delicious and flavorful sweet and sour pork recipe made in your slow cooker.
Ingredients
12 lbs pork, cubed
4 cups apple juice
4 beef bouillon cubes
2 large apples, peeled, cored and chopped into small pieces
1 large yellow onion, chopped into small pieces
12 button mushrooms, washed and sliced
1/8 cup pine nuts
1 cup sweet chili sauce
6 large garlic cloves, diced fine
2 Tablespoons soy sauce
1 teaspoon onion salt
1 Tablespoon paprika
1 teaspoon cayenne pepper
Directions
Dissolve beef boullion cubes in warm/hot apple juice.
Place all in crock pot.
Cook for 6-8 hours and serve with rice.