Southwest Beef Enchilada Recipe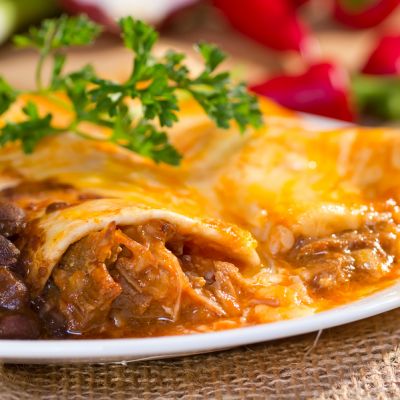 Where all of Grandmother's favorite recipes are found, just like Grandmother makes them, with a little love.
Ingredients
2 Tablespoon olive oil
2 lbs round steaks or 2 lbs chuck steaks, cut into 1 inch pieces
2 garlic cloves, minced
2 onions, chopped
1 (15 ounce) cans enchilada sauce ( green or red)
1 (14 1/2 ounce) cans diced tomatoes and green chilies
1 (4 ounce) cans chopped green chilies
1/4 teaspoon black pepper
2 tablespoons flour
1/4 cup water
8 flour tortillas
1 cup shredded Mexican blend cheese (more or less of cheese of your choice)
Directions
Heat the olive oil over medium heat in a large skillet, add the meat and cook until browned.
Add the garlic and onion and cook until tender.
Pour in the enchiladas sauce, diced tomatoes and green chilies, stir to combine and season with pepper.
Bring the mixture to a boil, then reduce to simmer and cook for one hour until the meat is tender.
Stir the flour into the water and stir into the meat mixture, bring to a boil and cook until the mixture has slightly thickened.
Preheat oven to 350F.
Have ready a 9x9 inch baking dish.
Place the tortillas onto a baking sheet and place into the oven for about 5 minutes, just to warm them.
Remove from the oven and working with one at a time, spoon 1/2 cup filling onto a tortilla, roll it up and place into the baking dish. Repeat until you have all the enchiladas done.
Spoon any additional filling around the rolled tortillas, and sprinkle the cheese on top. Cover the pan with aluminum foil and bake for 10 minutes to melt the cheese.
If you want to brown the cheese, you can place it under the broiler for a couple of minutes, but watch it carefully so it does not burn.
Remove from oven and serve.