Spaghetti And Meatballs Recipe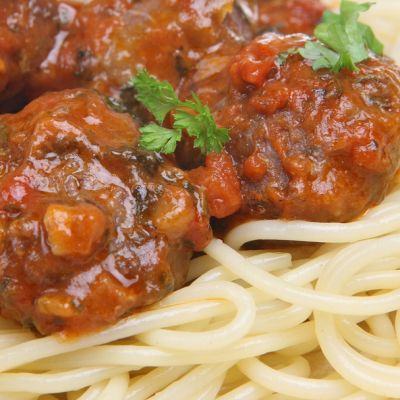 This spaghetti and meatballs recipe is a classic dish.
Ingredients
Meatballs
500 grams ground beef
500 grams ground pork
3 garlic cloves, minced
1 cup breadcrumbs
2 teaspoons basil
2 teaspoons oregano
1/2 cup parmesan cheese
3 eggs
Sauce
4 garlic cloves, minced
1 large onion, chopped
2 x 12 ounce cans tomato sauce
1 x 14 1/2 ounce cans diced tomatoes
2 teaspoons sugar
2 cups water
2 bay leaves
1 teaspoon fresh oregano, chopped
1 teaspoon fresh basil, chopped
Garnish
Fresh parsley
Directions
Preheat oven to 350 degrees F.
Cook spaghetti according to package instructions.
In large bowl, combine beef, pork, garlic, breadcrumbs, basil, oregano, parmesan cheese, and eggs.
Shape into 1 inch meatballs and place on a cookie sheet.
Bake for 20-25 minutes.
In large pot, saute onion and garlic in 1 Tablespoon of olive oil, about 3-4 minutes.
Add tomato sauce, tomatoes, water, oregano, basil, sugar and bay leaves and stir until well combined.
Bring to a boil then turn down and simmer for one hour.
Add meatballs and continue to cook over medium-low heat for 15 minutes more.
Serve sauce and meatballs over spaghetti.