Spaghetti Squash And Meat Sauce Recipe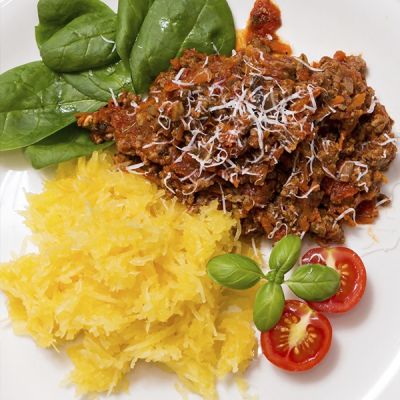 This spaghetti squash and meat sauce recipe gives you instructions how to bake the squash and while the squash is baking, you make a tasty meat sauce to serve with it. Spaghetti squash can be a substitute for pasta.
Ingredients
1 spaghetti squash
2 Tablespoons vegetable or olive oil
Meat Sauce
1 lb ground beef
1 small onion, chopped
1-2 garlic clove, minced
2 stalks celery, chopped
1 cup sliced fresh mushrooms
1 (14 1/2 ounce) cans tomato sauce
1 Tablespoon mixed Italian herbs
2 dried bay leaves
salt
fresh ground black pepper
1/2 cup freshly shredded parmesan cheese
Directions
Spaghetti Squash
Preheat oven to 350 ºF.
Line a baking sheet with parchment paper and grease lightly with oil.
Cut the spaghetti squash in half lengthwise and scoop out the seeds.Place spaghetti squash with cut sides down on the prepared baking sheet.
Place into the preheated oven and bake 30 minutes or until a sharp knife can be inserted
with only a little resistance.
Remove squash from oven.
Set aside to cool down enough to be easily handled. Using a large spoon, scoop the stringy pulp fromthe squash and place in a medium bowl. Cover the bowl with aluminum foil to keep the heat in.
Meat Sauce
While the squash is baking, make the meat sauce.
Place the ground beef into aDutch oven and cook until brown and no pink is showing. Drain any fat from the pan.
Add the onion, garlic, celery, and mushrooms. Saute about 5-7 minutes until tender.
Add the tomato sauce. Stir to combine.
Stir in herbs and bay leaves. Do a taste test.
Season to taste with salt and pepper.
Bring sauce to a boil then reduce the heat and simmer, uncovered, for 15-20 minutes, stirring occasionally. Before serving, remove bay leaves.
Serve with the spaghetti squash and sprinkle on freshely grated parmesan cheese.