Spiced Coconut Filled Tarts Recipe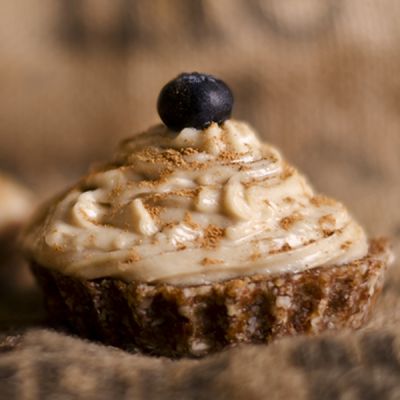 A creamy coconut pudding filling on a crunchy and delicious nutty tart.
Ingredients
Crust:
¼ cup butter
1 tsp cup cocoa powder
3 Tbsp sugar.
1 large egg, lightly beaten
1 cup almond flour
¾ cup unsweetened, shredded coconut
½ cup chopped walnuts
½ tsp vanilla extract
Filling:
2 and 1/4 cups unsweetened coconut milk beverage
1.5 cups unsweetened shredded coconut
1/2 cup sugar
4-inch piece of cinnamon bark
1/4 cup corn starch
1 Tbsp water
Extra cinnamon to garnish
Optional: Fresh fruit or chocolate shavings for garnish
Directions
Prepare crust:
For the crust, melt butter in a medium saucepan over low heat. Stir in cocoa and sugar and then slowly whisk in beaten egg. Cook, stirring constantly, until mixture thickens, about 1 minute.
Remove from heat and stir in almond meal, coconut, nuts and vanilla. Press crust evenly into bottom and sides of four 4-inch diameter tart pans with removable bottoms and refrigerate until firm (30-45 minutes).
To prepare filling:
Mix corn starch with water and whisk until thickend.
Combine 2 cups of the coconut milk with the shredded coconut and the cinnamon in a pot and bring slowly to a boil, stirring frequently. When the mixture comes to a boil, add the sugar and reduce heat to low/med-low and allow to cook gently for another 10 minutes, stirring frequently.
After the sweetened mixture has cooked for 10 minutes, remove from heat and strain to remove the shredded coconut and the cinnamon.
Return the strained milk to the pot, add in the remaining 1/4 cup coconut milk and the cornstarch/water mixture.
Cook over medium-high, stirring constantly, until the mixture is quite thick and viscous. Remove from heat, and allow to cool completely in fridge.
Remove from fridge and use a mixer to blend until creamy.
Fill tarts with coconut mixture, sprinkle with extra cinnamon, and garnish with your choice of fruit or some chocolate shavings.