Spicy Paprika Potato Wedges Recipe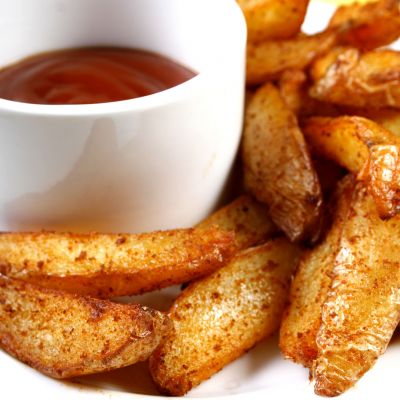 Add just a wee bit of spice to your life with these tasty baked potato wedges.
Ingredients
Potatoes, washed, skin on, cut in wedges
olive oil (1 teaspoon per potato)
sea salt and pepper ( a sprinkling)
Piment'n picante (A spice that is a mild chili-/hot paprika-powder)
The amount you prepare depends on the number of people eating, but make at least one whole potato for each serving.
Directions
Preheat the oven to 450F.
Line a baking sheet(s) with parchment paper and grease with a little olive oil.
Wash the potatoes, and if there are any scabs, cut them off.
Cut the potatoes into wedges and dry with a paper towel.
Place the potatoes into a large bowl. Drizzle with olive oil, season lightly with salt, pepper and the cayenne paprika powder. Toss to coat the potatoes.
Spread the wedges onto the baking sheet(s). Keep them single layered so they will get crispy.
Place into the hot oven and bake about 30 minutes. After each 10 minute time increment turn to potatoes over to allow them to crisp up.
Cook until the potatoes puff up and are cooked through.
Season to taste and serve with your favorite sauces.