Spinach Egg Bake Recipe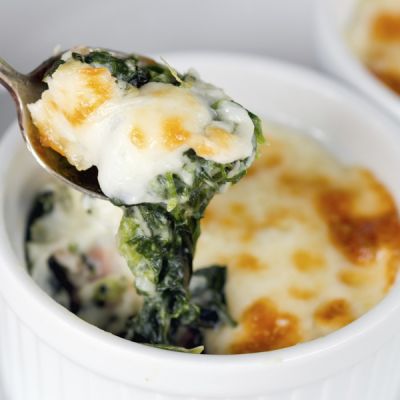 Use this spinach egg bake recipe as a main dish, or side dish. It is delicious with a salad and baked chicken breasts.
Ingredients
1 (10 ounce) package of frozen spinach
Or 2 cups fresh cooked spinach chopped
1 cup dry cottage cheese (or ricotta cheese)
2 eggs
5 Tablespoons parmesan cheese
4 ounces mozzarella cheese, grated
1/4 teaspoon garlic powder
1/4 cup minced onion
1/2 teaspoon oregano
1/2 teaspoon salt
1/2 teaspoon pepper
Directions
Preheat oven to 350 degrees F.
Grease either a large casserole dish or 4-6 ramekins.
It depends on their size.
If you are using frozen spinach, be sure to defrost, then squeeze out any water.
If you are using fresh spinach, steam the spinach, and squeeze out all the water, then chop into pieces.
In a mixing bowl, combine the cottage cheese, eggs, parmesan and mozzarella cheeses, garlic powder, minced onion, oregano, salt and pepper.
Spoon the mixture into the prepared baking dish(es)
Place into the oven and bake for 40-50 minutes.