Spinach Lasagna Rolls Recipe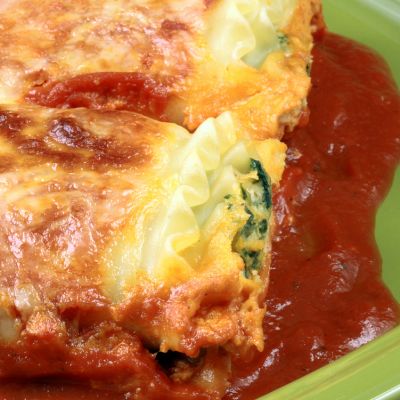 Individual rolls of lasagna, packed with flavor.
Ingredients
9 lasagna noodles, cooked
10 oz frozen chopped spinach, thawed and completely drained
15 oz ricotta cheese
1/2 cup grated Parmesan cheese
1 egg
salt and fresh pepper
32 oz tomato sauce
3/4 cup mozzarella cheese, shredded
Directions
Preheat oven to 350F.
Have ready a 9x12 baking dish.
Bring a large pot of water to boil. Drop in the lasagna noodles and cook for about 10 minutes to el dente.
Drain and run the noodles under cold water.
While the noodles are cooking, combine the spinach, ricotta, Parmesan, egg, salt and pepper in a medium bowl.
To assemble, ladle about 1 cup sauce on the bottom of the baking dish.
Place a piece of wax paper on the counter and lay out lasagna noodles. Pat the noodles dry with paper towels.
Take 1/3 cup of ricotta mixture and spread evenly over noodle. Roll carefully and place seam side down onto the baking dish. Repeat with remaining noodles.
Ladle the remaining sauce around the noodles in the baking dish and drizzle a little sauce on top of each roll along with about a tablespoon of shredded mozzarella cheese.
Put foil over baking dish and bake for 40 minutes, or until cheese melts. Makes 9 rolls.
To serve, ladle a little sauce on the plate and top with lasagna roll.