Spinach Salad With Strawberries Recipe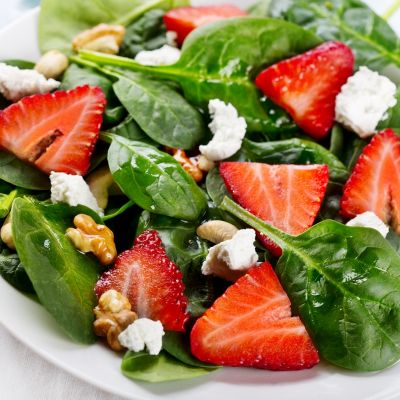 This spinach salad with strawberries recipe is topped with crunchy walnuts, soft feta and a delicious homemade balsamic salad dressing.
Ingredients
8 cups fresh baby spinach
2 cups sliced fresh strawberries
1/4 cup chopped walnuts
1/4 cup cashews (optional)
1/2 cup feta cheese, crumbled
(Serves 4-6)
Dressing
5 teaspoons balsamic vinegar
2 teaspoons liquid honey
3 teaspoons finely chopped fresh chives
3 Tablespoons extra virgin olive oil
1 teaspoon Dijon mustard
1/4 teaspoon salt
1/4 teaspoon black pepper
Directions
Place spinach in a large bowl, add ice and cover with water; set aside to chill.
Dressing
In a small bowl, whisk together balsamic vinegar, honey, and chives.
Now whisk in Dijon mustard until well blended.
Drizzle in olive oil and whisk until blended.
Whisk in salt and pepper to taste.
Remove spinach leaves from water, pat dry on paper toweling and break into pieces.
Add to a large mixing bowl.
Add sliced strawberries and toss lightly to mix.
Add dressing and toss gently until spinach and berries are lightly coated.
Add nuts, toss lightly and serve.