Spinach Stuffed Potatoes Recipe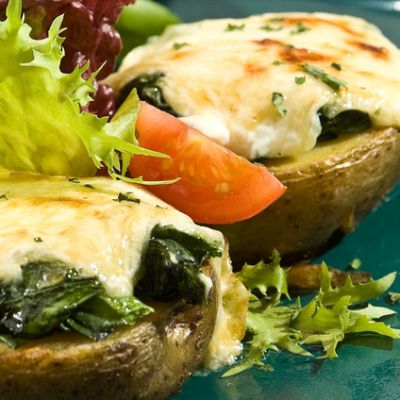 These spinach stuffed potatoes are just lovely served with baked salmon. They are not difficult to make and fancy up a plain meal.
Ingredients
2 medium sized potatoes
1 medium size bunch of fresh spinach
1 Tablespoon olive oil
1/2 medium onion, finely chopped
2 Tablespoons milk
1 teaspoon butter
salt and pepper, to taste
4 Tablespoons white cheese, grated (or more)
(either a white cheddar or mozzarella)
Directions
Preheat the oven to 375 degrees F.
Place into the preheated oven and bake for 45 minutes or until done.
Place the washed, fresh spinach into a medium sized saucepan and put about 2 inches of water. Bring to a boil, put a lid and let simmer for 2 minutes then shut off, leaving the lid on.
Heat the oil a skillet. Add the onions and saute until tender. Shut off the heat and set aside.
Drain the water from the spinach and squeeze out as much water as you can.
Chop the spinach into big chunks and add to the skillet with the onion. Stir to combine.
When potatoes are done, remove from the oven.
Cut the potatoes in half lengthwise and scoop the potatoes into a bowl. Leave a 1/4 inch shell on the baked potatoes.
Add the milk and butter to the potatoes and gently mash together with a fork.
Spoon the potato mixture back into the potato shells.
Divide the spinach onion mixture onto the 4 potato halves.
Sprinkle the grated cheese evenly on the potatoes.
Return to the oven and bake for about 10 more minutes, until the cheese is melted and lightly browned and serve.