Steamed White Fish Recipe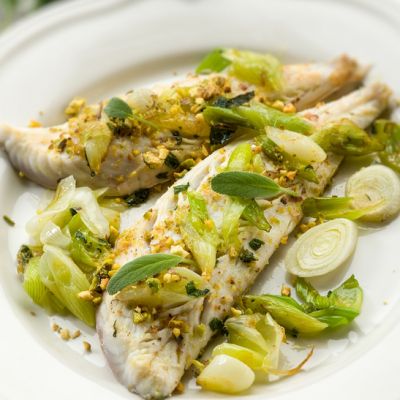 This steamed white fish recipe produces moist, flaky fish flavored with ginger, onion pistachio nuts and a tasty sauce that it is cooked in.
Ingredients
Serves 4
2 Tablespoons olive oil
6 teaspoons rice vinegar
4 teaspoons sesame oil
4 teaspoons soy sauce
4 thin white fish fillets, such as cod or sole
salt
4 Tablespoons minced fresh ginger
3 large green onions, thinly sliced
1/2 cup chopped pistachio nuts
a few sprigs of fresh sage for garnish
Directions
In a small bowl, whisk the oil, vinegar, sesame oil and soy sauce together. Set aside.
Prepare 4 pieces of aluminum foil, cutting each one 12 x 6 inches in size.
Place a piece of fish on each piece of foil.
Turn the edges of the foil up to create a dip rim around the fish, so that each piece of foil forms a tray that will not open.
Form it so that it does not allow any of the liquids to get out, but that the top remains open.
Sprinkle each piece of fish with a little salt.
Divide the oil, vinegar soy mixture evenly in all four of the aluminum pouches.
Divide and sprinkle the minced ginger and onions onto each piece of fish.
Using a steamer, either bamboo or metal, place 2 of the fish packages inside and cover.
Bring the water to a boil and steam the fish for 6-8 minutes or until white and cooked through.
Time will depend with the size of the fish. Remove the first two packages and gently close the aluminum foil around the fish to keep the heat in while you cook the second two fish packages.
Reserve the juices, drizzling over the fish when you serve. Top with crushed pistachios.