Strawberry Coffee Cake Recipe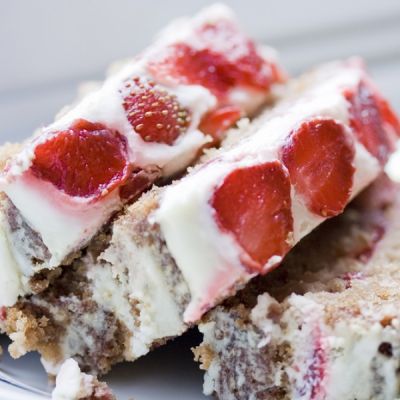 A very yummy recipe for strawberry coffee cake with a sweet creamy glaze.
Ingredients
Cake
1 3/4 cup all-purpose flour
1 tsp baking powder
1/2 tsp baking soda
1/2 tsp salt
7 Tbsp butter, softened
1 cup granulated sugar
1 large egg
1 tsp vanilla extract
1/3 cup sour cream
1/3 cup buttermilk
Filling
1 cup strawberries, diced
1/4 cup granulated sugar
2 Tbsp cornstarch
1 Tbsp cold water
1 tsp lemon juice
Cream Cheese Glaze
1/3 cup cream cheese softened
2 Tbsp. butter room temperature
2/3 cup powdered sugar
1/4 tsp. vanilla
3 Tbsp. milk
1 cup strawberries sliced
Directions
For the strawberry filling In a medium saucepan whisk together 1/4 cup granulated sugar and cornstarch. Stir in cold water and lemon juice. Add in strawberries. Bring mixture just to a boil over medium heat, stirring constantly. Once mixture reaches a boil, reduce heat to low and simmer about 1 minute, stirring constantly, until thickened. Remove from heat and set aside to cool.
For the cake. In a mixing bowl: whisk together flour, baking powder, baking soda and salt. In the bowl of an electric mixer, whip together softened butter and sugar until pale and fluffy, about 4 minutes. Stir in egg and vanilla. Mix in sour cream. Add dry ingredients alternating with buttermilk in two separate batches and mix just until combined.
In a loaf pan evenly spread 1/2 of the cake batter into a greased 8x8 baking dish. Spread strawberry mixture evenly over batter layer. Dollop remaining batter by the spoonfuls over strawberry mixture and gently spread batter into an even layer.
Bake 40-45 minutes until golden and toothpick inserted into center comes out clean. Allow to cool
To make the cream cheese glaze, beat cream cheese and butter together until smooth. Slowly beat in the powdered sugar. Add the vanilla extract and milk. Beat until smooth and until you have a glaze consistency. Drizzle cream cheese glaze over cooled cake, top with sliced strawberries and serve.