Strawberry Filled Double Chocolate Cake Recipe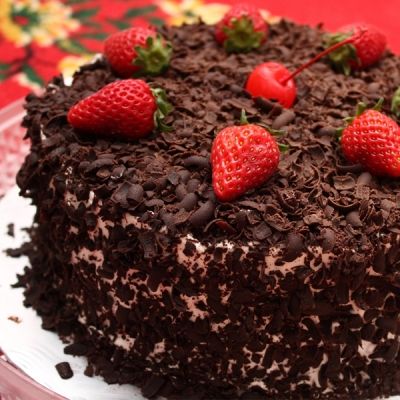 A Delicious recipe for strawberry chocolate cake topped with chocolate shavings. This is a beautiful dessert.
Ingredients
Chocolate Cake
2 cups all purpose flour
2 cups granulated sugar
3/4 cup cocoa
2 teaspoons baking powder
1 1/2 teaspoons baking soda
1 teaspoon salt
1 teaspoon espresso powder
1 cup mil
1/2 cup vegetable oil
2 eggs
2 teaspoons vanilla extract
1 cup boiling water
Filling
3/4 cup strawberry jam
icing
4 cups confectioners sugar
1 cup butter
5 Tablespoons water
1 teaspoon clear vanilla extract
Topping
1 1/2 cups chocolate shavings
strawberries
Directions
Preheat oven to 350 degrees F. Grease two 9 inch cake pans.
For the cake: Add flour, sugar, cocoa, baking powder, baking soda, salt and espresso powder to a large bowl or the bowl of a stand mixer. Whisk through to combine or, using your paddle attachment, stir through flour mixture until combined well.
Add milk, vegetable oil, eggs, and vanilla to flour mixture and mix together on medium speed until well combined. Reduce speed and carefully add boiling water to the cake batter. Beat on high speed for about 1 minute to add air to the batter.
Distribute cake batter evenly between the two cake pans. Bake for 30-35 minutes, until a toothpick or cake tester inserted in the center comes out clean.
Remove from the oven and allow to cool for about 10 minutes, remove from the pan and cool completely.
To make the icing. In a large bowl, combine sugar, butter, water and vanilla. Beat on low speed to combine, then beat on medium speed for a full five minutes.
To Assemble. Place bottom layer of cake on a serving plate. top with jam then second later of cake. spread the icing then quickly distribute cchocolate shavings. top with strawberries to serve.